Fuente:
http://critical-hits.com/2012/02/16/fighters-flapjacks/
Información:
Fighters & Flapjacks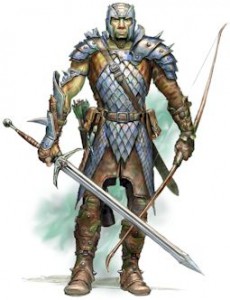 If you ask me what my favorite D&D classes are, it's hard to pick one. My tastes range from the mildly offbeat (Psions/Psionicists, Bards), the specific (Paladins but only if I don't have to deal with a damn horse), the edition-specific (2e Wild Mages and
4e Ninjas
), and exactly one true classic: the Fighter.
However, I've been playing RPGs a long time now. I'm quite experienced at playing RPGs and games of all types. This is why I react poorly to statements implying that the D&D fighter should be the class that you give the new player, because they're so simple. I don't necessarily want a class that's overly complicated (and we all know a few of those out there in D&D history) but I do want one that gives me plenty of decisions to make inherent in the class itself. I want to think like a Fighter, choosing what move (and maybe, what weapon) is most appropriate to the situation. I want to think like Batman in Dark Knight Returns and (paraphrasing) "There's 9 different sword strikes from this position. 5 of them kill. 4 of them paralyze for life. The last one… hurts."
Why is this? I point to what I want in D&D classes as a happy marriage between concept and mechanics. The Fighter- the tough, armored guy that uses weapons to fight monsters- is one that appeals to me for whatever reason. (Possibly because Con is my dump stat in real life.) The concept is awesome and there's many, many examples of it out there in heroic fiction. Mechanics help reinforce that concept, but also serve with how I interface with the "game" portion of RPG, in giving me interesting decisions to make, and a specific outlet for creativity interpreted through those mechanics. (Slight digression: I think D&D needs better mechanics for improvised weapons and using stuff from your environment. There have certainly been rules and classes that attempt this, but it's never quite clicked for me, and I think that could help some characters a lot, as well as having the side effect of powering cool descriptive background stuff from the DM and making the situation overall more dynamic.)
This doesn't mean I'm against the simple Fighter. By all means: if simplicity is what you want in a class, whether you be new or whether the game portion of an RPG doesn't appeal as much to you, you should have that option. The "Slayer" build in 4e Essentials vs. the core 4e Fighter is definitely one way to handle it. In fact, I'd love to see that option the other way for other classes like the Wizard and the Cleric. In fact, in a
recent Design & Development column
, WotC talked about developing the "Slayer" equivalent for the Sorcerer, which I think is a great step in the right direction. I'm not even saying that all classes need a full simplicity/complexity toggle (though if that could be pulled off in an easy way, awesome!) At least for the core classes, or archetypes, or whatever they are, regardless of game system even, don't automatically assume that one concept only appeals to someone with a specific taste in complexity. Let me choose between my simple to play (and for me, boring!) Fighter and a more complex one. Obviously, this was
brought up in the context of the new D&D
, but I think applies to many RPGs, just with different names. (I've never been in love with the name Fighter anyway, as literally someone who Fights. Might as well call someone who uses magic… well, you get the idea.)
Just be sure no matter what to give me a Fighter that's hungry for battle. And flapjacks.
Comments
6 Responses to "Fighters & Flapjacks"